Zenko Drum - C Pentatonic Scale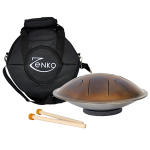 The C-Pentatonic Zenko Drum, designed and created by Metal Sounds in France, is a melodic tongue drum also known as a tank drum or hand pan. We import these from Europe and are amazed at the soothing sounds it produces. The stainless steel body and blades are well-formed to take you on a musical adventure and the results of which will be incredible! The drum can be performed while on a stand or lap positioned. A carrying bag, support ring, and mallets are included. We have a limited inventory of these instruments.
The Zenko Drum is the result of a long research & development program headed by the Metal Sound's team, in collaboration with scientists and experts in the metal industry. The upper harmonics content comes from a perfect tuning process, and the sound emanates in smooth, soft waves that are perfect for meditation music and melodic improvisers. It will produce different sounds depending on whether played by hand or with the included mallets.
The pentatonic scale is a 5-tone C major scale. The A3 tongue in the center will give a deep bass that can be used as a pivot. It can be played by beginners or experimental musicians. Perfect to play with other instruments in a C major harmony, a highly energetic key.
Details:
weight 2.8 Kg (6.17 Lbs)
diameter 32 cm (12.6″)
height 13 cm (5.12″)
9 notes: A3 – C4 – D4 – E4 – G4 – A4 – C5 – D5 – E5
Deluxe bag included
Support ring included
Pair of sticks (vinyl tips) included