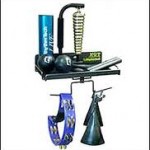 The Mountable Gig Tray is a well designed percussion holder.  It mounts off of a cymbal or straight stand and will accommodate hanging tambourines, triangle, headless tambourine and other small instruments. Made of tough powder-coated steel and measuring 13 1/2" wide x 7 1/2" deep, the MGT has a soft, silent, no-slip Neoprene surface which keeps noise down when picking up and putting down instruments.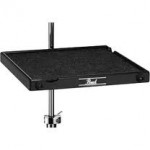 The PTT-1212 (12"x12")  Trap Table has been a favorite with Broadway show players for a number of years.  It is compact and and fits easily into the orchestra pit.  Large enough to put the important toys all in place. It comes with a mount to fit on your cymbal or other type of stand. The larger PTT-1824(18"x24") is most useful when space is no problem and many items need to be available for immediate  usage. This comes with a single
More Info »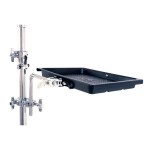 Gon Bops Small Percussion Tray with Clamp is the ideal percussion tray for your toys and gear when space is limited. Made of lightweight, molded plastic with a non-slip rubber surface, this tray is easily portable and comes with a heavy-duty clamp to attach to stands. Tray Dimensions are: 8.5"x11.5"x1.5"