Free Shipping on this "Holiday Special" item within Continental USA while supplies last until December 31, 2018!
Pete Engelhart Blossom Bells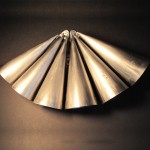 Six heavy gauge metal bells individually tuned. Pete Engelhart originally designed the blossom bells to be hand held and hit against each other to create a church bell effect.  We encouraged him to make them mountable so drumset players and percussionists could use them in their setups.  They have become extremely popular and often players use yarn mallets to get that "ringing" choir bell effect. We've seen them played with fingers, sticks, rods,etc.  They can be hand held and used in many different situations.
Sound Sample