Tuxedo Pro Mallet Bags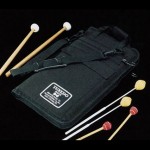 The Tuxedo Pro Mallet bags are padded cordura material, much like airline luggage.  The Pro Mallet Bag is an extra wide bag designed to fit any size mallet. It has a shoulder strap, inside lining for mallet head protection, straps to suspend from instrument and pockets to hold music.
The Extra Large Pro Mallet bag holds up to 60 pairs of sticks/mallets. It has an adjustable shoulder strap, 16 divisions inside bag, 2 outside pockets for manuscript or accessories, and nylon straps for suspending from instrument and mallet head interior protection.