Free Shipping on this "Holiday Special" item within Continental USA while supplies last until December 31, 2018!
Kaces "Not Leather" Pro Stick and Mallet Bag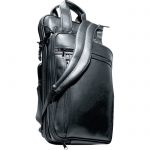 With 10 pockets to hold mallets, sticks, brushes and rods, the Kaces "Not Leather" Pro bag is ideal for the working drummer. The padded shoulder strap and rolled grip handles make transport comfortable. Heavy elastic hoops secure hanging from the side of a drum. Dimensions are 18.5″ x 11″. This bag looks and feels like real leather. Limited Quantity.