Ron Vaughn Cymbal Mallets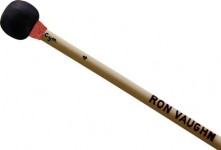 Ron Vaughn Cymbal mallets have been and remain one of the most important mallets many professionals own.
The balance and weight provide effortless cymbal rolls with long, even crescendos and decrescendos, with no audible evidence of the player's rhythmic roll strokes. The dense mallet head fabric texture can suppress cymbal vibration without distortion or choke. Two models are available both with rattan shafts. The standard size mallet has 14″ shafts, the X-long model has 15 1/2″ shafts. For cymbals larger than 20″ the X-long is recommeneded.