Ron Vaughn Medium Block Mallet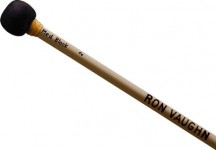 Ron Vaughn medium block mallets are designed for various medium wood blocks. They have matched birch shafts and are very clear and brilliant in articulating the sound of the block. Length is 13″.
Performance Tip: These are excellent for performance situations where changing mallets in mid-performance is not practical. Of all of Ron's High-Density head mallets, the Medium Block Mallet offers the best overall sound on blocks, and suspended cymbals. If you have to pick a single pair only for fast moving pieces requiring a wide range of block sizes and pitches, and maybe a little cymbal/keyboard work, these are a great choice. Remarkably versatile in weight and design for many types of multiple percussion work and situations where there is not enough time to change mallets.