Regal Tip Aluminum Handle Brush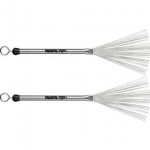 Regal Tip Aluminum Handle Brushes have a patented adjustable spread and retractable wire bristles. These cymbal or drum brushes will give players light, fast, and responsive action. Dimensions are 13.5″ length and .437″ diameter.
Regal Tip has been supplying great drummers with great products for 50 years. As the global leader in brush manufacturing, Regal Tip set the standard for what you have come to expect. All Regal Tip products are hand-crafted with detailed precision.