Regal Tip Hickory Handle Brush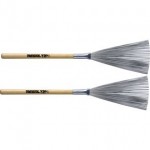 The Regal Tip Hickory Handle Brush are non-adjustable "drummers brushes". They feature a fixed-spread wire brush with an American hickory wood handle and the famous Regal Tip finish. This is a great wire brush for back-sticking. Gives drummers a clean, crisp sound at any venue. This is the brush that started it all!
Regal Tip has been supplying great drummers with great products for 50 years. As the global leader in brush manufacturing, Regal Tip set the standard for what you have come to expect. All Regal Tip products are hand-crafted with detailed precision.