Pearl Travel Congas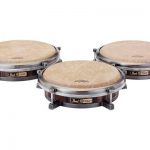 Pearl Travel Congas deliver real conga sound from a compact 3-½" depth drum that can be carried literally in a backpack! The wood shell and stave construction is identical to their full-size congas and the Remo FiberSkyn 3 synthetic head yields outstanding tone while resisting fluctuations from changes in temperature or humidity. Five precision Allen bolts provide accurate and easy tuning via the included foam-handle Allen wrench. The Pearl Travel Conga can be played on your lap or mounted on the Pearl Travel Conga Stand with the Pearl Travel Conga Stand Bridge if needed. It can also be mounted on a snare stand and integrated into your drum set or percussion set-up. Snare stands are available for both seated or standing position.
The PEARL Travel Congas are available in three sizes: the large 12-1/2″ size, the medium-sized 11-3/4" size and the smaller 11″ model. These three sizes are equivalent to the standard tumba, conga and quinto sizes of full-size conga drums. The drums are Caramel Brown finish. Free shipping continental US.
Features:
Wood Thai Oak Construction.
Durable, natural-sounding and weather-impervious Remo Symmetry Head.
Foam Handle Tuning Wrench Included.
Three sizes replicate a full-size set of conga drums.
Mounts easily on normal snare drum stands.