Pearl Travel Conga Stand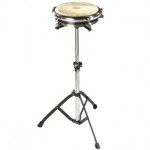 The Travel Conga Stand is designed for fast set-up and break down while using the Pearl Travel Conga. It's a solid, secure stand for standing or sitting and will not creep while performing. A carrying bag is included with the stand. Stands are sold by size of Travel Conga.
For multiple travel conga drum set-ups, the Pearl Travel Conga Stand Bridge is available and sold separately.