Pearl Tamborim with Quick Draw Mount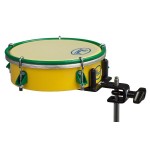 In traditional Samba bands the Tamborim is normally hand held and pitched extremely high. The Pearl PBT60C Brazilian Tamborim is a great little hand drum with a plastic head. It comes with a Quick-Draw Mount for fast change over from stand mounting to hand grip. This affords the percussionist the optional luxury for drum set players and percussionists to be able to mount the instrument off of a rack or holder thereby giving more freedom to play other instruments. There are no jingles on the drum. Pearl's entire line of Brazilian Percussion brings modern refinements and Pearl quality to traditional Samba products.
You also may wish to purchase a Pearl Tamborim Stick.