Kevin Spears Pro Kalimba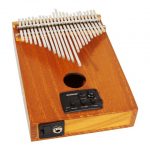 Kevin Spears has the ability to play a Kalimba (thumb piano) as a full range instrument. Whether playing rhythm, melody or bass, Kevin does it all on one instrument. He has now designed the ideal instrument to do all of this. The Kevin Spears Pro Kalimba is Red Cedar with a Natural finish. It has an electronic pickup, preamp, built-in eq with volume control and a 23 note keyboard. The possiblities with this Kalimba are endless. It has a five octave range and includes two batteries.
Innovative features built into the Kevin Spears Pro Kalimba include:
* electric pickup, preamp, built-in eq and volume control for amplification, utilizing guitar pedals, sound effects, looping, etc.
* 23 key expanded layout for greater tonal choices and possibilities
* Tunable to any key or scale
* 5-octave extended range
* Tunable note range from Low C-1 bass notes up to G-5
* Incorporates a Kevin Spears custom tuning which allows player to polyphonically play bass and melody simultaneously
* Reinforced side walls for playing percussive rhythms on the instrument
* Designed for great tone whether as an acoustic or electric instrument
* Built in EQ with standard 1/4 inch jack