Free Shipping on this "Holiday Special" item within Continental USA while supplies last until December 31, 2018!
Goshen Eleven-Key Mbira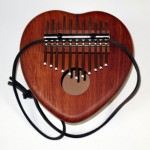 The Goshen Eleven-Key Mbira —also known as a "thumb piano" or "kalimba"— is made from select hard-shelled gourd and features one complete 11 key octave tuned to a major scale. The keys are of smoothly finished spring steel. The pianos have two finger holes for vibrato effects and come with a rawhide strap and basic playing instructions. No two gourds are exactly the same in shape or size, therefore your gourd thumb piano will be unique in shape and size as well as pitch. Free Shipping within Continental USA!