Grover Pro Projection-Plus Tambourines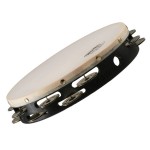 The orchestral standard for over 30 years. Used by more symphonic percussionists than any other concert tambourine! Full bodied sonority throughout a wide dynamic spectrum.  All tambourines include a CTB tambourine bag and Roll Ring.
German Silver
Our most popular alloy, German Silver resounds with a clear articulation that is bright, sensitive, and powerful. This versatile alloy is the choice of many classical players looking for a focused sparkle that's not too heavy in sound. The most popular choice for all-around playing requirements. Available in 8″ or 10″ w/ a double row of jingles or 8″, 10″ or 12″ w/ a single row of jingles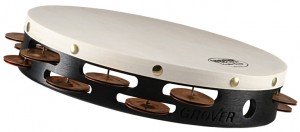 Phosphor Bronze
Phosphor Bronze is preferred by percussionists who seek darker sound colors. Phosphor Bronze compliments the deep character of romantic European orchestral repertoire. Equally suited for concert band or small ensemble, this special alloy is for those who gravitate towards mid-range and darker overtones. Available in 10″ w/ single or a double row of jingles.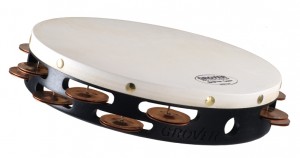 Beryllium Copper
Beryllium Copper tambourine jingles were first developed by Grover Pro in the 1980s. This rare alloy is chosen by players who want a rich texture with a balanced blend of both bright and dark overtones. In the right hands, this tambourine will create a lush, signature sound profile. This is the tambourine of choice for many professional orchestral players. Available in 10″ w/ single or a double row of jingles.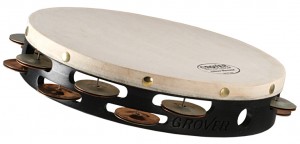 Silver/Bronze Combo
Grover Pro's innovative T2/GSPh was the first tambourine to fully integrate German Silver and Phosphor Bronze alloys in one tambourine. "Fully integrated" means each pair of jingles consists of both silver and bronze alloys. Furthermore, the jingles are voiced in alternating patterns, guaranteeing harmonious resonance. A superb, general-purpose instrument for those who want both highs and lows in one tambourine. Available in 10″ with a double row of jingles.