Grover Pro GSX™ Ebony Finish Concert Snare Drum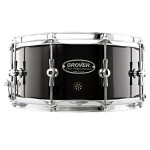 Grover Pro GSX™ Ebony Finish Concert Snare Drum is a 14-inch snare drum available in 5″ and 6.5″ depths. They feature 10-ply cross laminated maple shell, ADV nodal venting, distinctive single point "bow tie" lugs, Grover Pro GSX silver/bronze snares, Gladstone style throw off, triple flanged steel hoops and Remo® Renaissance batter head. A padded case is also included at no extra charge.
The GSX™ Concert Snare Drums are specifically designed for schools and percussionists who desire a fully functioning concert snare drum with a high value to price ratio, yet they retain many of the same innovative features as the pro-level Grover Pro concert snare drums.
When creating this snare drum Grover Pro retained the concept of multiple snare materials. This provides for both crystal clear clarity and a super-sensitivity that makes it easy to play at soft dynamics. Grover intentionally eliminated the need for the player to worry about multiple snare balance adjustments, this way the player can focus their attention on performing.