Grover Pro Custom Dry Tambourines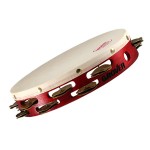 Grover Pro Custom Dry Tambourines exhibit distinct articulation with focused clarity. Created for percussionists looking for an abundant range of dry timbrel colors. All tambourines include a CTB tambourine bag and Roll Ring.
Heat-Treated Copper DISCONTINUED
Orchestral percussionists asked for a dry tambourine with dark sonic focus. The Grover Pro Custom Dry Heat-Treated Copper model fits the bill and gives percussionists a tambourine that adds the darker hues to the orchestral palette of sound colors. This tambourine is dry and "crunchy" like Heat-Treated Silver, but has a darker sound profile.
Heat-Treated Silver
The Grover Pro Custom Dry Heat-Treated Silver tambourine resounds with a superb combination of bright, extra dry, and full sonorities. Percussionists who desire an articulate, "crunchy" spread of overtones will appreciate the extra steps taken to crystalize the molecular structure of the German Silver alloy. The Heat-Treated Silver tambourine is perfect for passages that require exaggerated articulation. Available in 8″ and 10″ models.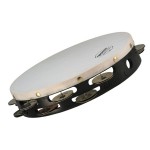 Hybrid Silver
The Grover Pro Custom Dry Hybrid Silver Tambourine brings together the resonance of the popular German Silver model with the crisp clarity of the Heat-Treated Silver model tambourine. Well suited to all playing situations, the sonority of this tambourine is defined yet complex. This tambourine is especially effective in less than desirable acoustic environments. Clearly, the Hybrid Silver Tambourine is the perfect choice for players who demand the best of both worlds!