Canopus Club Kit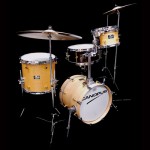 The Club Kit was the first series CANOPUS introduced, and later it became the foundation of the current R.F.M. series. The Club Kit is characterized by the 15 inch bass drum, which is the smallest size that allows the use of a bass drum beater. The challenge was to gain enough bass drum sound out of the smallest shell. These are maple shells and the drum size dimensions are: 12″ x 15″ bass drum; 7″ x 10″ tom-tom; 12″ x 13″ floor tom. Although a 15 inch drum is usually only considered for a tom-tom, they have succeeded in gaining a surprisingly rich and low bass drum sound. People trying the Club Kit for the first time are impressed by the rich sound from its compact size.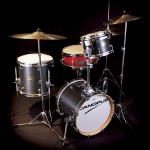 To achieve the rich sound on such a small drum, they use a standard tom-tom head. The difference between the bass drum head and the tom-tom head is the shape of the collar. On a 15 inch head, a standard bass drum collar is much too strong. It absorbs the energy on the head and even muffles the drums natural resonance. After comparing a bass drum style head with a standard tom tom head, they found the latter to be much more resonant on such a small shell. This is a small example of the attention to detail that CANOPUS brings to the table. Rather than relying on simple theory or common sense, they take the time to think outside of the box to ensure their products achieve the ideal sound we strive for and our customers. Snare Drum not included. Tom arm included. Special Order. 60 days delivery. Prices vary by finish. The finish colors on your screen display may differ from the actual color.
Oil Finishes
Oil finishes yield the most "natural" sound.

Wrap Finishes
Contraction, peeling or cracks may be observed on PVC covering shells over time.
Lacquer Finishes
Lacquer shells are available in "glossy" or "mat" finish. Specify option in the order notes.
If you don't see the color you are looking for please contact us.