Rhythm Tech Mountable Gig Tray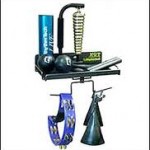 The Mountable Gig Tray is a well designed percussion holder.  It mounts off of a cymbal or straight stand and will accommodate hanging tambourines, triangle, headless tambourine and other small instruments.
Made of tough powder-coated steel and measuring 13 1/2″ wide x 7 1/2″ deep, the MGT has a soft, silent, no-slip Neoprene surface which keeps noise down when picking up and putting down instruments.