The things we do for money! My buddies and I were comparing stories about some of the worst gigs we've ever had. It's the summer of 1984, I am living in Manhattan and my car gave out the day before the job. It is a club date on Saturday night at a fancy Long Island country club that pays well. Booked by a contractor I have never worked for, but trying to impress, and working with musicians I didn't know—no car, limited funds. Renting a car is too expensive. My alternative is to ride a commuter train to Long Island.
I start out at Penn Station with drums and cymbals packed, ready for the journey. Give myself enough set up time not to panic. I board the Long Island Rail Road headed to Glen Cove and relax. The plan is to arrive at the train station, immediately hire a taxi, and go to the club a few miles away. On arrival, I gather my equipment (heavy), walk off the train and see no taxis at the station! Ok, go to a pay phone (pre cell days) start calling all the local taxi companies only to be told they are all booked and not available for at least another 30 minutes. My job is in 40 minutes, I need time to set up and the club is a good ten minute trip. I can't walk 3- 4 miles to the club with my drums. Holy hell! I am standing with drumset, cymbals, dressed in a tuxedo feeling (looking) like a jerk. I'm desperate for a ride. Looking around, I spot a police squad car in the parking area across the street.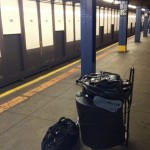 By now my tuxedo is wet from sweat. The weight of schlepping the drums and stress is getting to me. Without losing a beat I cross the road and approach the two officers, in the car having coffee. I nervously explain my situation….I need to get to the club, have no transportation, called all the taxis. Could they do me a big favor and give me a lift. They look at me astonished…giving me a lift is one thing, but with drums!!! Now I begin pleading. I explain I am a professional musician; this is how I make my living, pay my rent and if I don't show I will be fired, etc. Brief silence. The officer in the passenger's seat turns to me and says, "If you can fit in the backseat with your drums we will take you." The backseat was stuffed. An assortment of police paraphernalia filled the seat. I immediately got to work, rearranging their equipment and having enough space to fit my trap case and cymbals. I still have myself and bass drum to fit. They are looking at me knowing it can't be done. I squeeze myself in, hold the drum on my lap and force the door shut. Let's go!
It's a short, bumpy ride. What a site. We get to the club. I roll out of the squad car with my drums and as I am thanking the kind cops a couple of band members in the yard, having a smoke, are staring at me in amazement. Am I a cop?? Is this guy nuts arriving in a police car??
I enter the club, set up and begin on time. The job goes smoothly. Between sets I explain my predicament and enlist the keyboard player to drive me to the train station when we finish. That's it!
Not quite. I get home feeling very proud, in spite of the hassles, I made it to the job on time and played well. However, the clincher comes on Monday morning. I get a call from the contractor asking "what the hell happened?" I tell him the job went well and he responds by screaming at me about arriving in a police car. I give the details of my dilemma only for him to inform me I created a stir showing up as I did. "Don't call me for any work in the future." He will not hire me again! Hey, I thought I did the right thing. So much for going beyond the call of duty.
I am sure there are many stories we all can share. If you have a "gig nightmare" you wish to share, please reply via the comment section below. We will be pleased to show the best stories on our website.