Standard Tabla Set w/Aluminum Dayan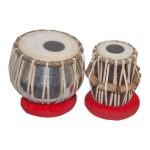 Standard sheesham (or similar hardwood) dayan is paired with an aluminum bayan. Both are strap tuned. Includes cushions, covers, tuning hammer and economy soft case. Cushion colors and patterns may vary.
Dayan head diameter 5.25 inches. Average Dayan height 10 inches.
Bayan head diameter 9.25 inches. Average Bayan height 11 inches.