Regal Tip Yellow Jacket Throw Brush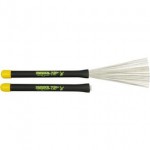 The Regal Tip Yellow Jacket Throw Brush features a wide wire spread, a rubber handle to provide a comfortable grip, and a nylon butt end for cymbal playing and drumming. The Yellow Jacket Throw is a first quality drummer's brush with an economic price tag. The brush wires store inside handle for protection and easy transport.
To retract Regal Tip Throw Brushes, just push the wire brush back into the rubber handle for storage or to modify your sound.
Regal Tip has been supplying great drummers with great products for 50 years. As the global leader in brush manufacturing, Regal Tip set the standard for what you have come to expect. All Regal Tip products are hand-crafted with detailed precision.