Regal Tip Performer Series Drumsticks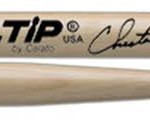 Chester Thompson –
Chester Thompson Performer Series Drumsticks from Regal Tip are long enough for you to use your fingers, which are at the heart of control, power, and accuracy. When Chester was starting, someone told him that he could play faster with longer sticks and he believed them. It does work for him. The drumstick tip is larger because Chester found that with more wood coming in contact with the head, he could achieve more volume without using an uncomfortably large and heavy stick.
Features
Wood tip: Teardrop
17″ long x .550″ diameter
Jeff Porcaro –
Jeff Porcaro Performer Series drumsticks from Regal Tip feature a barrel-shaped tip for fat, punchy sounds. Made from hickory with a natural finish.
Features
Wood Tip: Barrel
Natural Finish
16″ length x .555″ diameter
Hickory
Jeff Hamilton –
The Jeff Hamilton Performer drumstick from Regal Tip features an acorn tip with short taper for punchy sound and extra strength. Made from hickory.
Features
Wood tip: Acorn
15-7/8″ length x 1/2″ diameter
Hickory