Pearl Jungle Gig Converter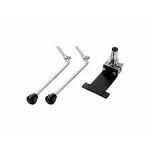 Need to convert a 14″ or 16″ floor tom to a bass drum? The Pearl Jungle Gig Converter is the solution. It's great for small gigs and extremely portable. The converter consists of two pieces: (1) Spurs that fit into standard 3/8″ floor tom leg brackets and (2) a bass drum lift with post that secures to a floor-tom mount.
Please Note: a tom mount is not included. To make the conversion complete an available Pearl I.S.S. Tom Mount adapter is neccessary and sold separately.