Ottaviano Cymbals 20" Lathed Ride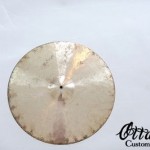 Ottaviano Cymbals are for the serious Jazz and Orchestral player looking for the sound of the highly sought-after old K's.  They are warm, dark sounding with clean stick definition and thin enough to crash as well as ride.  We have sold these to many endorsers representing other cymbal companies looking for a unique one of a kind "sound."  These are limited and are made one at a time.
Justin Ottaviano makes his own cymbals. He uses the best quality Turkish blanks. The alloy is cast bronze B20, which is 80% copper and 20% tin. He makes all of the cymbals from the shaping process to the finishing of the logos. He shapes the cymbals profile, using a special technique that was shown to him by his family. He has developed the technique and feels that it gives the cymbals their unique sound.  Through the process, he plays the drums to hear how the cymbals' sound blends with frequencies of the drums.
After the shaping is done, he works on the weight and the finish of the cymbal. This process is achieved by lathing. Using special tools, he gets the desired look and weight that compliments the shaping process. Once again the cymbals are played on the drums for further sound modifying if needed.
Once the sound and the feel of the cymbal are to his expectations, the metal logo is added to the edge of the cymbal, making it an Ottaviano Custom Cymbal.