Mapex Falcon Direct Drive Hi Hat Stand w/removable legs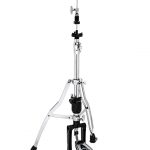 Falcon is a complete line of pro-level hardware with the features and conveniences needed by pros in the studio, on tour, or in the woodshed. The Falcon hi-hat is a new breed of stand, putting the emphasis on functional simplicity and an incredibly smooth feel.
The removable legs of the Falcon Hi-Hat stand allow players to attach the stand to a second bass drum and make the stand easier to fit into the gig bag for easy transportation.