Hammerax 14" Chick Magnet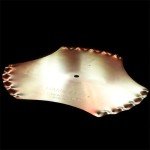 The Hammerax 14″ Chick Magnet is a 14″ cymbal enhancer. It Drops on and off instantly between the bottom and top hat or ride/crash cymbals. It increases loudness and is great for heel stomps and a more aggressive "chick" sound.
All Hammerax instruments are torture-tested so you can hit them as hard as needed for projection and volume. (Ear protection is always recommended when drumming.) The distinctive bright edge tells you it's a genuine Hammerax brand instrument that's 100% made in the USA!