Free Shipping on this "Holiday Special" item within Continental USA while supplies last until December 31, 2022!
Gon Bops Mariano Bongos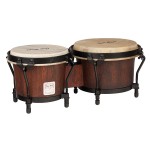 The legend is back! A modern version of the legendary instruments designed and built by Gon Bops founder Mariano Bobadilla. Vintage character has been preserved using traditional counter hoops, Gon Bops natural hide heads and Durian wood construction. Traditional welded bottom ring design eliminates cup washers for extended tuning range. Available with black hardware or chrome hardware.