Free Shipping on this "Holiday Special" item within Continental USA while supplies last until December 31, 2018!
Doumbek 8 x 14 with Synthetic Head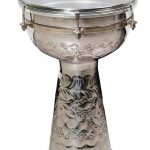 This is a great drum for jamming and drum circles. This nickeled brass doumbek is 8″ x 14″ with a synthetic head. The head is mylar and is not affected by weather conditions. It is tunable with bolts and the body is decorated with a floral design. It is very portable and a tuning wrench is included. Free shipping in continental US.