Canopus Ventures Model Snare Drum 14 x 5.5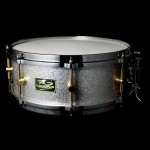 This signature snare drum was designed for Mel Taylor, the Ventures drummer, with the Ventures sound in mind. Canopus engineered the drum to Mel's specs utilizing custom bearing edges to create short sustain and easy rim shot use. Features are: 8-ply maple shell, Die Cast hoops, and brass lugs. Covering is Silver Sparkle. The drum as Mel said, "a lot of volume, and is clean and clear."
Also available in 14 x 6.5. Four week delivery.