Canopus Neo Vintage M1 Kit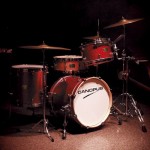 The shell design for the M1 is a result of analyzing the drum sound that dominated the jazz world in the 1960's. It consists of maple and poplar in 7 ply for Tom and Floor Tom and 10 ply for the Bass Drum. In addition to using vintage bearing edges as a guide for their own unique design, Canopus  adopted die-cast hoops as standard equipment on  floor toms and tom toms. The core of the drum sound comes to life in high pitched tuning, and totally eliminates the differences and instabilities that have traditionally hampered the sound of vintage instruments. The Standard Kit (Bop) configuration is: 14″ x18″ Bass Drum, 8″ x 12″ Tom, 14″ x 14″ Floor Tom. Tom Holder is included. Snare is not included. Additional sizes available on request. Special Order. Normal Delivery Time: 60 Days. Prices vary according to finish. The finish colors on your screen display may differ from the actual color.
Oil Finishes
Oil finishes yield the most "natural" sound.

Wrap Finishes
Contraction, peeling or cracks may be observed on PVC covering shells over time.
Laquer Finishes
Lacquer shells are available in "glossy" or "mat" finish. Specify option in the order notes.
If you don't see the color you are looking for please contact us.