Gon Bops Alex Acuna Signature Cajon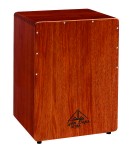 Authentically Peruvian! Mohena hardwood construction, meticulously dovetailed corners and pristine lacquer finish all add up to a quality instrument. Partially-sealed front panel design results in louder, tighter bass and plenty of high-end "pop". The matte-finish faceplate is built to Alex's specification. Hand made in Peru, each quality instrument is meticulously tested before it ships, resulting in a superb Cajon that is built to last!
This cajon comes with a free gig bag!!