Zildjian K Custom Fast Crash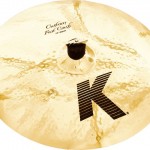 Art Blakey, Elvin Jones, Tony Williams, and scores more musical movers have sworn by the deep, dry, shimmering sound of Zildjian's K Cymbals developed in 19th century Turkey.
The Custom Fast Crash Cymbal features a new bell design that results in a faster decay and quicker response than regular K Custom crashes. Brilliant finish.