Zildjian A Series Mastersound Hi Hats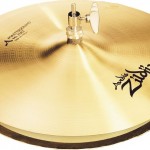 Hammered outer edge on bottom HiHat creates radical, clean, fast "chick." This original Mastersound Hi Hat delivers the fast, clean "chick" sound of the Mastersound design in the bright, natural, full-bodied voice of the world's best-selling cymbal series.
Multiple contact points created by innovative hammering along the edges allow air to vent out of the Zildjian Master Sound Hi-Hat Cymbals as they close, accentuating the "chick" effect. These hi-hats from Zildjian are ideal cymbals for rock music when maximum cut and volume are needed.