Free Shipping on this "Holiday Special" item within Continental USA while supplies last until December 31, 2018!
Remo Kids Bongo Drums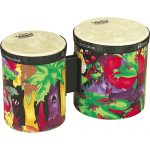 The Remo Kids Bongo drums are pitched high and low. The Rainforest graphic is fun for kids and the durable skyndeep drumheads are pitched for a true bongo sound. Sizes are 6″and 5″. No sharp edges and these bongos sound like the real thing! Recommended for ages 3 and up. These make kids smile!