Canopus R.F.M. Studio Kit (Maple)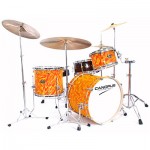 The Canopus R.F.M. (Reinforced Maple) Series Drums feature different reinforcement construction as well as different shell construction depending on the shell's diameter and depth. The result is a bright, solid sound with enough mid-range tone and resonance. They achieve a fantastic core drum sound as well. We highly recommend the maple drums for all genres of music. They have a wide tuning range, plenty of resonance and excellent balance within the drum-set. The Studio Kit sizes are: 15×20 BD; 8×12 Tom; 13×14 Floor Tom. These are great sizes for recording as well as concert halls. The Tom Arm is included. Snare Drum not included. Special Order. 60 days delivery. Prices vary by finish. The finish colors on your screen display may differ from the actual color.
Oil Finishes
Oil finishes yield the most "natural" sound.

Wrap Finishes
Contraction, peeling or cracks may be observed on PVC covering shells over time.
Laquer Finishes
Lacquer shells are available in "glossy" or "mat" finish. Specify option in the order notes.
If you don't see the color you are looking for please contact us.