Yamaha DTX 402K Electronic Drum Kit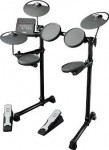 The Yamaha DTX 402K Electronic Drum Kit is rated as one of the favorite, most affordable electronic kits manufactured. Encouraged by Yamaha's dedication to technology and cutting edge innovation, the pricing and features of this kit are outstanding.
The DTX402K comes equipped with 10 professional drum kits made with world-famous sounds from throughout the history of drums including Yamaha's legendary acoustic series. By utilizing voices from the professional DTX900/700/500 and DTX-MULTI 12, each kit has extremely high sound quality with "Accent Articulation" for dynamic instruments that change sound characteristics according to your hit strength. But that's not all – you can freely mix any of the 169 organic drum sounds to create customized kits that suit your style – even if your style is always changing. Try a heavy metal double bass kit one day then change into a dance kit the next, or keep your ten favorite kits of all time. You get a world of choices inside: 23 snares, 21 kicks, 36 toms, 31 cymbals, and 42 percussion instruments. Getting a DTX402K is really like having ten professional drum sets in one compact electronic drum kit. This is the perfect kit for practice or beginning players.
Configuration
Snare : 7.5 inch pad Tom : 7.5 inch pad Floor Tom : 7.5 inch pad Bass Drum : KU100 silent kick unit Hi-Hat : 10 inch pad Hi-Hat controlling unit : Opened/Closed/Foot splash available, and even work as second bass drum. Crash Cymbal : 10 inch pad Ride Cymbal : 10 inch pad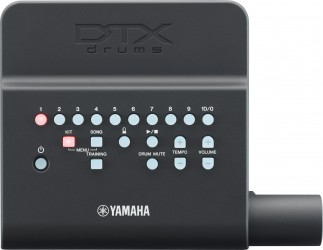 FREE SHIPPING ON THE DTX402K!