Vater Chico Hamilton Model Drumsticks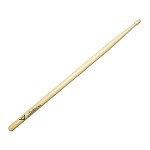 Vater's Chico Hamilton Model Drumsticks combine a 5A grip with a gradual taper for a very responsive and quick feel. The teardrop style tip delivers warm cymbal sounds.
Available in wood tip.
Length = 16.25″ Diameter = .57″
Part of Vater's "Player's Design" Series, this custom model is derived from the artist's unique and individual style, under the direction of the artists themselves, through careful and extensive planning, design and production.