Remo John Bergamo Signature Kanjira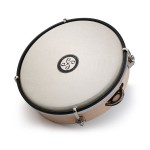 The John Bergamo Signature Series Kanjira by Remo is key-tuned using small hooks. Its counterhoop ring encircles a replaceable drumhead specially developed to create a warm, dark tone with minimal overtones. The frame of the Bergamo Signature Series drum comes in a natural wood veneer finish with a slit inside that holds a set of tambourine jingles. It is 7″ in diameter with a 2″ depth.
John Bergamo was the coordinator of the percussion program at California Institute of the Arts. His career included concerts with John McLaughlin's Shakti, performing in Frank Zappa's Abnuceals Emukka Orchestra, and a tour to the Soviet Union with Robert Shaw. Mr. Bergamo was involved in contemporary music performance, studio work, and non-EuroAmerican music performance until his recent death.