Free Shipping on this "Holiday Special" item within Continental USA while supplies last until December 31, 2018!
Pearl SensiTone 14x6.5 Steel Snare Drum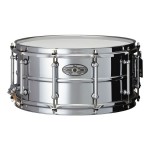 The SensiTone Steel Snare Drum 14″x 6.5″ has a mid-range overtone, but also a sharp "crack" sound. It is a sensitive, classic beaded shell in steel that cuts through and features the new Clip-Lock Strainer System that locks into place and keeps snare tension from loosening. It can be tuned to a low pitch and still project. Free shipping continental US.