Mapex SV529X Saturn V Exotic Rock 4-pc Shell Pack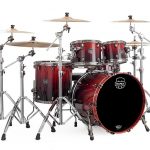 The Mapex SV529X Saturn V Exotic Rock 4-pc Shell Pack features the classic Maple and Walnut shell combination enhancing the warmth and full sounding drums that Mapex is known for. This is a rock-n-roll power keg! The bass drum is extremely punchy with a full boom. The bass shell is 7 ply and the toms are 7 ply. Memory-Mark Bass Drum Spurs are attached as well as Low-Contact Bass Drum Claws. The 4 piece Shell Pack consists of: 22″x18″ Bass Drum (No Mount), 10″x8″ and 12″x9″ Toms, 16″x16″ Floor Tom. No Snare. Black chrome hardware. Included are 2 Tom Arms and 2 Adapters for Mounting. If you prefer mounting your toms on the bass drum an easy-to-install Free-Floating Bass Drum Mount is sold separately. The very reasonably priced Mapex HP 6005 hardware pack consisting of two boom cymbal stands, snare stand, bass drum pedal and high hat stand is available. FREE SHIPPING CONTINENTAL US.
Available in Cherry Mist Rosewood Burl, Satin Black Maple Burl, Transparent Ash Burl Burst, Deep Water Ash Burl and Natural Ash Burl finishes.