Ludwig Duco Gold Clubdate Shell Kit w/22" Bass Drum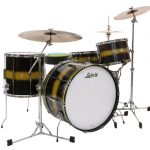 Ludwig's answer to the Retro kit. The Vintage Clubdate features 2 ply American Maple inner and outer shells with a 2 ply Poplar wood core.Sizes are 14×22, 9×13, 16×16 floor tom. The bearing edges are round for a noticeable bottom end and added attack. The Duco Gold lightweight shells are very attractive with the addition of Imperial lugs. These drums are great for live playing and recording. A 5×14 Snare drum is optional. Stands and cymbals are not included.
Free shipping in Continental US.
-14×22 Bass Drum
-16×16 Floor Tom
-9×13 Tom Tom
-5×14 Snare Drum (optional)