Free Shipping to Continental USA addresses for this item!
Ludwig Breakbeats Kit by Questlove - Shell Pack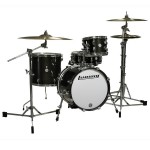 Ludwig, with the assistance of Questlove, designed this extremely portable kit for small clubs and easy travel. The shells are 7-ply hardwood with Black Sparkle finish and 45 degree bearing edges. The shell sizes are: 16″x14″ Bass Drum, 10″x7″ Mounted Tom, 13″x13″ Floor Tom and 14″x5″ Wooden Snare Drum. The Bass Drum has a Riser so the beater can strike in the center of the head.
Included with the shell pack are the Velvet Storage Bags for transport—pictured below.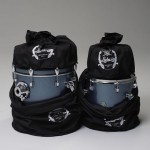 The Breakbeats Kit is sold as a Shell Pack only and does not include hardware stands or pedals.