Hammerax Hyper Clave Pair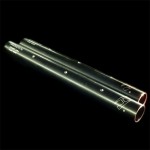 The Hyper Claves come in two models:
Hollow Metal Claves
These claves are capable of EXTREME projection and outdoor rated for years of stable tone. They can be held tight for a wooden sound or loose for an anvil sound. The sweet spots are also marked for education. They are made of non-corroding aircraft alloy with bright ends and are available in Medium Pitch and High Pitch pairs.
Oval Claves
These claves have two tones per tube created by oval shape – a double tone at same time by hitting at 10 o'clock position and shocking anvil tones from various striking positions. They are available in oval medium pitch and oval high pitch pairs.
100% Made in USA!