GMS 25th Anniversary Snare Drum (6.5 x 14)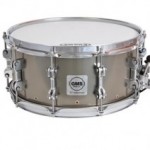 NOTE: This drum is a special order and will take some time to build, please email us if you have any questions before you order.
GMS Drum Co. is proud to celebrate their 25th Anniversary.
We wanted to create a snare drum in honor of our anniversary, one that would be unique and encompass our passion for new technology while remaining true to our love of old world quality and craftmanship. We feel we've accomlished that with the 25th Anniversary model.
-Rob and Tony GMS VP and President
The 25th Anniversary snare drum produces the articulate sensitivity found in the PVS and adds the distinctive charactoristic tone of the Revolution brass interior. The drum is painstakinly finished on the outside with the Revolution Nickle Silver for commemorting the 25th Anniversary.
Specs
8 ply maple shells, with 8 ply reinforcement rings ( 1" on top, 1 3/8" on bottom)
Innovative "Perimeter Venting System". Each drum has 10 small holes drilled through bottom edge and then vented out the side of the shell for maximum impact and sensitivity
Revolution Brass coating on the inside of shell (not on reinforcement rings)
Revolution Nickel-Steel coating on outside face
2.3 triple flange hoops (die cast optional)
Evans drumheads
Tension relieving SE snare drum lugs, with GMS swivel insert
GMS Grand Master hand tooled brass throw off
All drums hand signed and dated
The first 25 drums will be numbered with a year, corresponding to the years we have been in business. First will be 1987, second 1988 etc…
Available in 6.5×14 only.